January 22, 2019 suzanne2019 Leave a comment
Exploring & Seeking Spirituality & Self-Healing
The Day I Met 'My Wolf'
Over the last 6 months of re-finding myself, I have been exploring different aspects of Spirituality, Self-Awareness and Self-Healing. A few months ago I did a 'one-day' workshop and this was The Day I met 'my Wolf'!
It was the day I opened the doors to Reiki, which many of you may already be using or familiar with. This was a great way to follow on from the Crystal Healing I had previously studied.
What Is Reiki?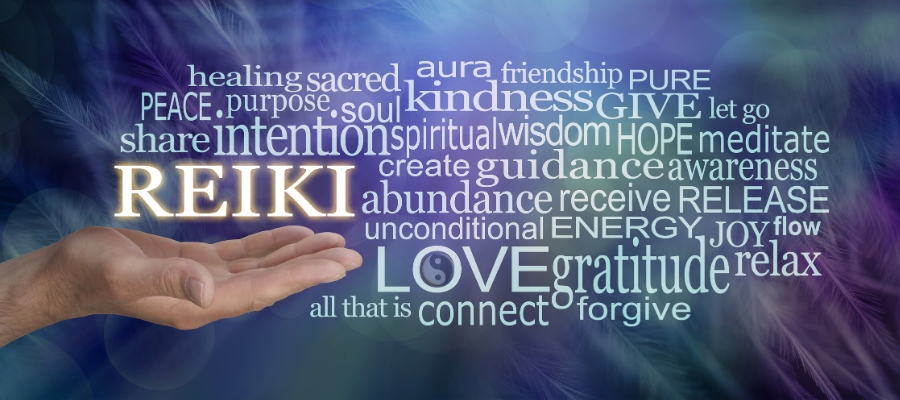 Reiki is a healing technique, an ancient form of hands-on healing, tapping into a Higher Power which then channels healing energy through the Healer or Therapist. This energy is then 'drawn' from the healer by the person receiving healing. It is a way to activate the natural healing processes of the patient's body and restore physical and emotional well-being.
Reiki is all about the willingness to give and receive unconditional love. Trusting in a higher force of Love and Intelligence.
The actual word Reiki is a Japanese word:-
Rei – meaning 'Universal, 'Transcendent, Mysterious, Spiritual, Essence, Wisdom'
Ki – meaning 'life force energy'
To summarise – 'a vital life force energy guided by universal wisdom'
Anyone can learn Reiki but it needs to be passed on by a process of 'Attunement' from a Reiki Master.
By entering into this process and embracing Reiki, it can help us to heal our lives, increase our spiritual awareness and to grow as a person.
So far I have been learning Reiki 1, the first level of Reiki which is about doing the inner work. Before we can heal others, we need to heal ourselves.
I did a one day workshop with my 'Reiki Master', learning about its history, practice and meditation. During our 'Attunement' or initiation, the Reiki Master opens and activates the Crown, Heart and Palm Chakras. Sometimes we can visualise images, colours, experience emotions and sensations, and anything which may be personal to us.
The Day I met 'My Wolf'
I felt very emotional throughout my initiation and I actually had a very vivid visualisation – 'the day I met my wolf'. The image of a Wolf, appeared and guided me to some Indians and Chief Indian. I sat with them outside their Wigwam, warming ourselves in front of a log fire!
After our 'Attunement' was over we discussed our experiences and interpreted their meaning. The Wolf image was representing my Protector, and the Indians representing my feelings of loneliness. My feelings of wanting to feel part of a community and security of a home. (many of us can feel alone, maybe our kids are grown up and left home, or if we are in an unhappy relationship we can feel a huge void in our emotional lives.)
'Wolf is a symbol of guardianship, ritual, loyalty and spirit. Wolf has the ability to make quick and firm emotional attachments, and often need to trust their own instincts. Thus they teach us to do the same, to trust our hearts and minds, and have control over our own lives'.
Follow Up
After having this 'Attunement' we then had a 'Cleansing Period' of approx 30 days, to help clear toxins from our bodies, release negative thought patterns and emotional issues we may be carrying.
We had to follow a Reiki treatment, which is the laying of our hands in certain positions on ourselves, to bring self-healing, every day for 21 days. We also needed and need to study & follow:-
The Five Reiki Principles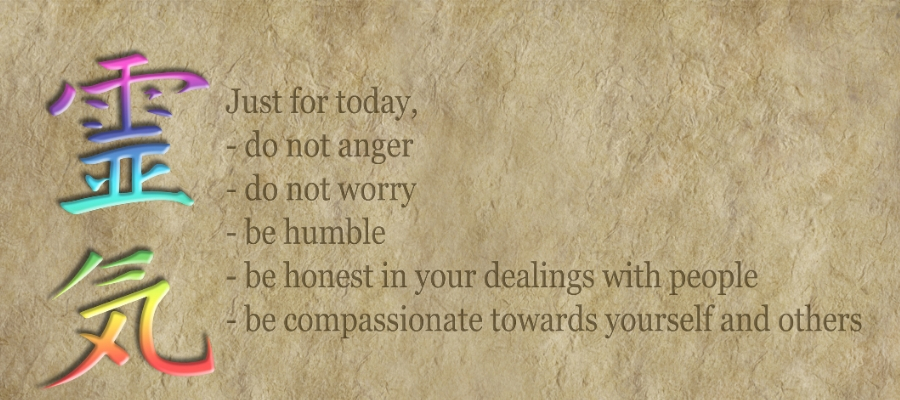 I am attending monthly meet-ups to continue practising and learning how to apply Reiki in my life and also on friends and family. As I heal myself I can progress onto Reiki II, to help bring healing into others lives.
Reiki Is A Way of Life, A Way of Being – It Is There To Support Us
Should you feel in need of spiritual guidance, self-help or just wanting to open new doors to learning, then explore for yourself the teachings of Reiki. There are many online articles and courses as well as attending workshops.
One of the most powerful aspects for me is –
Reiki Empowers Us To Take Responsibility For Our Own Lives