January 29, 2019 suzanne2019 Leave a comment
What Started As A Hobby
Became A Full-Time Job – From Home Baker To Shop Owner
I remember on my 18th Birthday, many moons ago, I was presented with a pretty cake. It had lovely piping detail and edible decorations but I was slightly disappointed as it was made from ice cream. It just didn't have that same appeal to me. I think that's what first brought my attention to cake art. In those days it wasn't quite so readily available.
It was from that point I decided to explore a little more. I took on the task of making my Mum & Dad's Silver Anniversary Cake. I had no real experience of cake decorating, but I was determined to create something wonderful.
My Mum was a little nervous to say the least, as she was throwing a big party and didn't want to offend me if it didn't turn out ok!
My Very First Cake
And so that was the start. I baked my first large fruit cake 12″ square and decorated it with my first hand made sugar roses. They cascaded all over the white iced cake. I had scoured the recipe books and magazine pictures for ideas and instructions. My journey in cake decorating began!
Sugar Craft classes were still a rarity then. I attended some evening classes, read books and basically became self-taught. I've always loved creating, whether it was sewing, knitting, drawing or painting so that was a good start.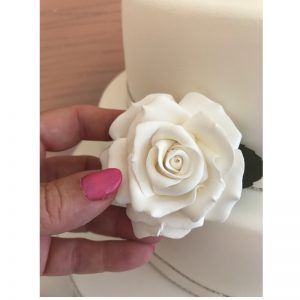 I Have Made Thousands Of Roses Over The Years!
Today there are so many courses you can do, whether it's at college, or private classes in cake shops or online tutorials. You will find your own style from these and depending on how far you want to progress will determine how much you want to invest.
Hobby Turned Business
I spent many years just doing cakes for friends and family as a hobby. Gradually this turned to clients, by word of mouth and simple advertising. I would come home from my office day job, excited to start work on a cake, plenty of practice and lots of man-hours!
It's great when you have young children or grandchildren, as it's a chance to experiment on all those kiddie cakes. They will normally be your worst critic too!
I reached a point where I decided to go into cakes full time as I had become increasingly busy building up a good client base and repeat customers. I decided to hand in my notice at work and run the business full time from home. This I did for several years until I decided to spread my wings and open up my first Cake Shop. It was a lock-up not far from our house. I could still bake the cakes from there but decorate them in the shop.
As the years went by and personal circumstances changed, my teenage kids & I moved across the road to larger shop premises which had living accommodation as well which I could lease. It was certainly hard work but very rewarding.
As anyone who runs a business will know, there are ups and downs, challenges and long hours. I think most things that could happen did happen, including getting sued by a part-time employee who cited discrimination even though she burnt the cakes. A car which crashed into the shop one night and created a year's worth of damage, insurance battles and stress!
Thinking of Doing Cakes Yourself To Sell?
Remember you must be Checked & Registered with your local council. Involves a simple phone call to them and they will arrange a visit to your premises/home kitchen. They will then grade you with a Food Hygiene Rating.
Insurance – ring round for quotes, you will need to cover yourself for Product/Liability Insurance. If you are a member of the Sugar Craft Guild check out their cover.
Build up your Client Base. Advertise through the Social Medias. Create a Facebook Page, Instagram Account & Pinterest all useful.
Be prepared for long hours! – most cakes are sponge based these days so a lot of last-minute work.
It is useful to attend some classes to build up your skills. Fashions are changing all the time…weddings used to be fruit cakes & royal icing. Now it is naked sponge cakes, & buttercream creations.
Attend local Wedding Exhibitions to showcase your cakes if going down the Wedding Cake route.
Test & Re-Test Your Cake Recipes. These days there are so many flavours on offer but I found most people still prefer Vanilla & Chocolate.
Early 'Retirement'
I 'retired' from my shop when I met my 2nd husband and decided to move away with him and start a new chapter. It had got to the stage where I had become a little 'caked' out, working sometimes all night to complete orders. During the summer wedding season, I was making & delivering 3-5 wedding cakes a week in addition to the celebration cakes we had to do. I also ran Cup Cake classes at the weekends which was good fun.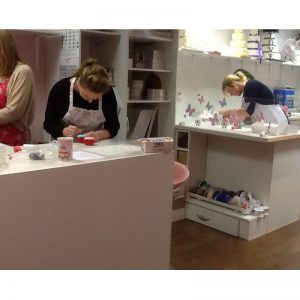 At the time it was a bit of a rash decision giving up the business but my lease was up for renewal. It sounded exciting at the time but unfortunately, I did give up a great deal of myself in the process. Haha, we live to regret!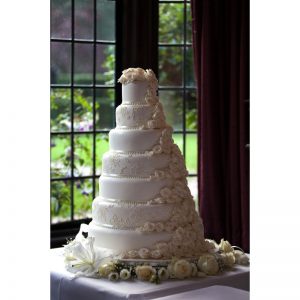 These days I only get to do a few family cakes. Birthday cakes for my Grandaughter, or Wedding Cakes for nieces and nephews. My daughter married last April, so I had fun creating her cake.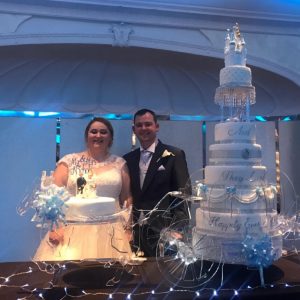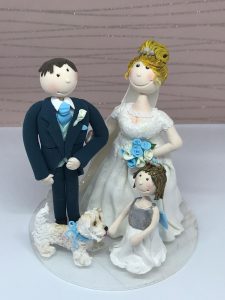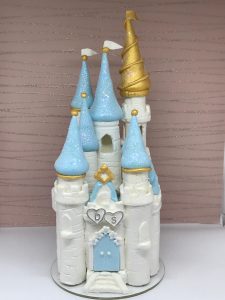 This summer my niece is getting married in France so this may be a bit of a challenge regarding its transportation! ………
Meanwhile, I have my Grandaughter's cake to do this week as she is just turning 3 – times flies!