January 17, 2019, suzanne2019 1 Comment
Folders, Notebooks & Journals
Finding What Works For You
Every year I buy a new notebook, diary, or journal. The pretty covers and colours draw me in and I think each time how I can't wait to fill them in.
They are not always as practical as they could be though, and I end up with lots of empty pages. I find myself skipping the 'To Do' Lists or ignoring the 'Daily Chores' Section.
So I thought I would try creating my own.
HOW TO MAKE A DIY JOURNAL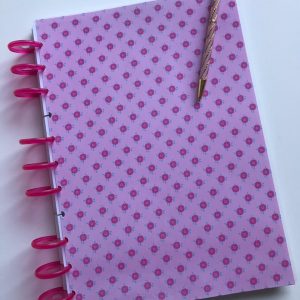 My Pretty Pink Journal
I had a look at what was available to buy and decided to opt for the Arc System. This is a clever way/design that allows you to add, remove, and rearrange pages and accessories as your needs change.
This you can't do with a lot of journals so I found I wasted lots of pages as I just didn't fill them in. It works a bit like a lever arch folder but without the bulk. You have removable discs that hold the pages together. I found some pretty pink ones on Amazon by The Happy Planner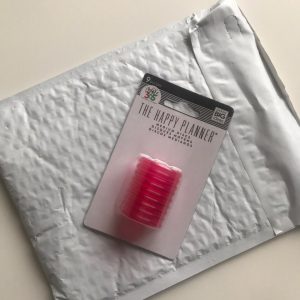 I created my Front and Back cover by laminating an A4 size piece of pretty card. Refill and Blank pages are available online through outlets like Staples, Amazon and Etsy
I got the card from Hobbycraft and you can find Laminators in stationery shops and online stores.
You will also need a special punch to make the holes unless you get them already done for you. Otherwise, you can get cheap Arc Notebooks which you can adapt yourself.
Adding Your Own Pages
I have printed out my own printables to incorporate into the Journal to help keep me on track. The good thing about this is I can upgrade it if I get fed up with the cover, create a new one each year, or just have a selection of different ones for all my hobbies/interests.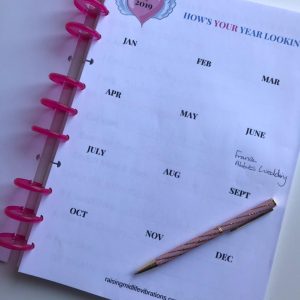 How's Your Year Looking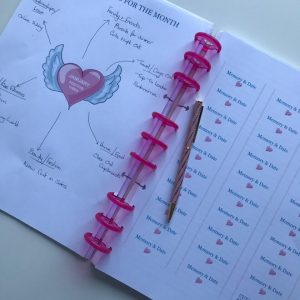 Calendar
I've also created some pages for Daily and Weekly Planning which I can add to the journal accordingly. I'm really looking forward to gradually building my Journal with stickers, affirmations, lists and ideas, as there is plenty of room to expand. You can get smaller discs if you don't want such a full planner.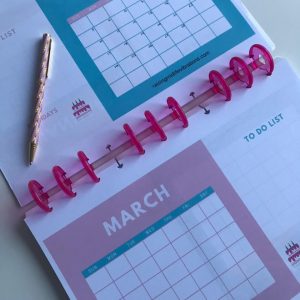 If you fancy making your own Journal follow the above steps to How To Make A DIY Journal and you can print off your own pages.
Let's hope it helps keep me on track!
(You can also print out the printables in black & white. I use Hp Instant Ink which is a handy plan to be on as they just send you replacement ink when you are running low. They've given me a link code if you want to sign up and try for yourself (gives me and you an extra month worth of ink-free, which is definitely handy!)
http://try.hpinstantink.com/fHTnW
Blog Update
Check out my free Journal Pages at my other site ibelieveinprint.com which you can download, print out & start writing!
*Some links on this post are affiliate links and at no cost to you