It's November Already
It is now the beginning of November and nearly a year since I first started writing this blog. Life, lost love and a suitcase have occupied these months since returning from France.
That was at the end of June and I was hoping to be a bit more sorted by now. But life is still throwing its curveballs and I am left wondering which direction I am heading.
I was hoping to start a new life on the Isle of Wight. An old boyfriend of mine (who I've known on and off for the last 7+ years) had contacted me whilst I was in France. He flew out for a few days and we made plans for me to live with him on the Isle of Wight. I was to help him with his holiday lets and B&B, whilst he was to help me get back onto my feet.
I've been over to the island many times over the years and it is a beautiful peaceful place. Although one of the most expensive water crossings! You can pop over from Lymington, Southampton or Portsmouth. If you wait last minute you can sometimes pick up a cheaper car crossing but generally, it can be anywhere between £40-£70 depending on the time of year and morning, daytime or evening.
Lost Love
Well, it soon became clear we had both changed over the years. He had been my one true love or maybe 'addiction' but life can change people and that spark had gone. My fear of being 'owned' by a man again after my 2nd marriage was either too strong or I have just learnt to value my independence more.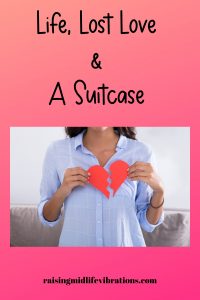 Current Location
I am currently staying at my mum and dads with Ollie dog, living out of a suitcase and trying to steer my life once again. My 'stuff' has been moved from my friend's place in Dorchester to my Aunts Garage. I have a little bit of me in my daughter's attic, my mum and dads house & garage, as well as in my Aunts garage.
If I hear about someone complaining about having to put up with the inconvenience of decorators or builders in their house once more, I can't help thinking I might just say 'try living my life out of a suitcase'!
New Family Addition
Anyway, I will probably stay at my parents over the winter and then review things in the spring. Amongst Grandma duties – yes my new little Granddaughter Talia-Belle was born in August – I've been helping out there and also being around for my parents at the moment.
I am still cracking on with my Etsy shops (struggling with SEO and any sort of traffic! – I'll leave that for another post). And using up the last of my funds. (No I am not on any benefits – having been self- employed the latter part of my life, I do not qualify, nor do I have any dependants so I'm not eligible to be housed!). Reasons many women my age decide to stay in 'unhappy' relationships!
New Website Design
I've updated this website a little, it was time to move away from Go Daddy hosting so I will see how it goes, and continue on my journey of raising my mid-life vibrations. I'm dabbling in a few online projects, enjoying a date or two and rediscovering me!
I hope you will continue to dip in here now and again and see if anything catches your interest…..I'd also love to hear about your mid-life ventures. If you would like to be featured in my 'conversation' posts, I'd love to hear from you…..a chance to put your thoughts in writing, unleash some feelings or opinions.