July 1, 2019 suzanne2019 Leave a comment
A Little Gite in Mellionec & Going With The Flow In Rural France
The weather is starting to get warmer and a few more sunny days have been showing up. My ethos for this chapter in my life has been to 'go with the flow' resulting in a more relaxed, revived and regenerated me!…..after what I would refer to as a mini melt-down (mental health issue/breakdown or any other term one might care to call it)!
It's funny how you can easily adjust to new routines and habits. The last couple of months have been filled with little day trips, driving the vast empty roads of Brittany, to simply weeding the garden. I've helped to plan for my niece's wedding. (which has just taken place here), picked up/dropped off family members to the ferry and airport terminals and consumed vast amounts of delicious French bread & cheese (to which I need to start cutting down on as my waistband is starting to expand).
Day Trips
I've explored Saint-Malo, a 2-hour drive away, which I loved. I did an overnight stay in a little hotel which I found on Booking.com. Located about 40mins walk away from the old walled town, along the beach-front, it was a perfect stopover with nearby street parking.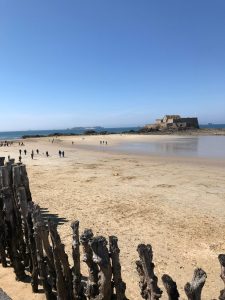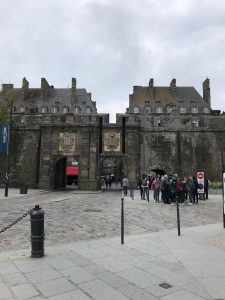 Another favourite place I've visited a couple of times was Josselin. An old friend flew over for a couple of days, so we spent a few nights in a little B&B there.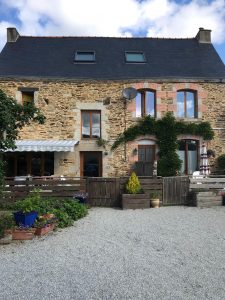 We also drove to Rochefort-en-Terre, a picturesque medieval commune with quaint old buildings steeped in history. I could imagine myself in a previous life running a local boulangerie or cakeshop there! Amongst the little restaurants were craft shops, selling candles, soaps and incense. Also, Hand made chocolate and nougat delicacies.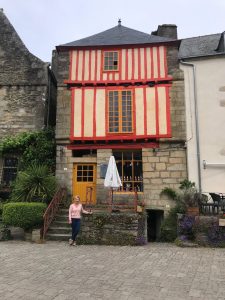 Wedding
My niece's wedding took place a couple of weekends ago at my brother and sister-in-law's place. After months of planning, hard work and a hive of industry with family and friends coming over from England, it couldn't have been more perfect, despite it raining all day. My brother is extremely creative and set up the venue beautifully, with a marquee, gazebo and outdoor eating space.
I helped Lindsay with some of the rustic theme decorations, making 35 meters of fabric bunting and the Wedding Cake!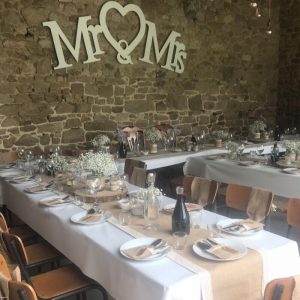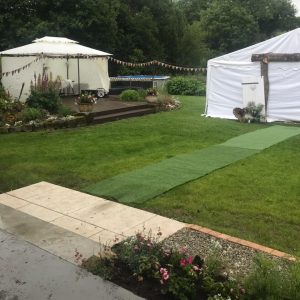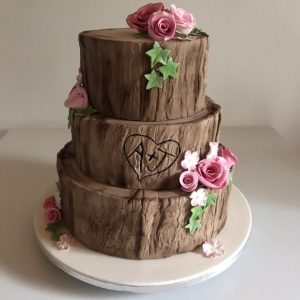 During the two weeks when the family were here I rented a little Gite in Mellionec (about 10 mins drive away). A perfect tranquil setting away from all the inevitable chaos. With its whitewash exterior and blue window shutters, the Gite was cute and functional. Perfect for assembling the wedding cake from!
Relaxed, Revived and Regenerated
For anyone who is wanting to escape the daily routine, relax or just 're-find' themselves, Brittany is a perfect choice. Miles of empty roads, lush green scenery, peace and quiet. Some days you don't see a soul and you can be lost in your own thoughts or a good book.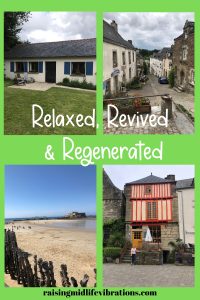 For me now, it is time to return to England. To re-face reality but in a better place emotionally. I've conquered a few fears, driven many miles, explored a few options….but at this stage in my life, it would be difficult to stay full-time. There are few work opportunities so you need to be self-employed with some capital behind you and a network of other English ex-pats is good to have. I've met some lovely friends out here, all of them have been very welcoming.
Although property is very cheap, I haven't the funds to set myself up at this stage. In an ideal world, I would love to run a B&B/Gite Business here or one day own a little holiday cottage!
The whole experience has given me itchy feet to travel more, but as I keep being reminded, I need money to do that so the job/work front needs re-addressing.
Meanwhile, I've decisions to make and new directions to explore, which have come about since being in France. These lie closer to home……or at least to the Isle of Wight!
I will embrace these new adventures much more relaxed, revived and regenerated. For anyone else seeking time out just for themselves, if you feel you need to escape the rat race, the materialistic world that can take hold, adjust to challenges or just to take stock of your 'mid-life' role, grab the opportunity – it may just save you from your own internal demons!