Audio Version Play
Week 1 Official Stay At Home
So we have been officially instructed to stay at home here in the UK and nearing the end of week 1. It still feels a little surreal and I know I haven't yet found myself a proper 'new routine'. At the moment there seems to be so much coming at me from Social Media, The News, and links into 'freebie courses' and zoom meetings. I find myself quite overwhelmed and going around like a headless chicken!
Inevitable in these new times and I expect many people are feeling the same. Those who are part of the NHS, remarkable in their dedication, have a major role to fill as with the shop workers, key workers, and numerous volunteers. Those of us isolating at home are finding new skills/hobbies/and online work. Families are having to adapt to kid's studies and test their relationships.
Looking After Mum & Dad
For me, I'm at home looking after mum and dad. I think I have become a little paranoid every time mum coughs or feels extra tired. I've told her not to touch the bins outside, and make sure they take their daily Vitamin C and sit in the garden when the sun shines for their Vitamin D. I think the weather is due to change next week but this week has been really lovely, sunny and warm in sheltered areas. I pop to the local shop & chemist for food and medicines as required. They have good systems in place for only allowing 4 people in at a time and everyone maintaining their distance. I can also take Ollie out for one walk a day to stretch my legs. I just wished he walked faster and further to get more benefit from this!
We are so lucky to have a garden to just sit in and get some fresh air. I feel for those people in the inner cities. London is being the worst hit with the virus and I expect many of the larger cities will follow suit with large communities living in close proximity. Mind you even in the little villages there have been outbreaks. A friend of a friends neighbour in the middle of nowhere contracted it and died. Their partner is still seriously ill and the relatives have been told he will not survive, although he is still hanging in there. Both elderly with underlying health problems but it seems anyone is vulnerable wherever they may live.
How To Stay Motivated In Isolation
I wake up each morning thinking this must be some sort of dream and then reality hits me and I am thankful that we are still all ok. I think it is a bit like grief when you've suffered loss or trauma you have that same sort of feeling. Did it happen, has it happened or was that just my imagination!
I've decided I really need to get myself into some sort of routine now and to schedule some daily activities to get me motivated. Life has been pretty much unbalanced for the last couple of years so it's not as if I am unused to living a 'temporary' life. But we all need some sort of focus to get us through the more challenging stages.
So I've come up with some sort of mini regime and I've included some links in case you want to check them out as well:-
Get up, shower, dress & makeup as normal to start my day! (I can still paint my nails even if I won't be able to have my hair done and my pink lippie lifts my mood!)
I'm missing my yoga and gym classes so I have found some Yoga on YouTube with 'Yoga with Adriene' which I can follow. Although I have been doing yoga for about 5 years now I'm never very good at remembering the moves unless I'm watching the teacher so this will be good. I also have an exercise bike here to use so I can also schedule that in.
I've linked into a free class with the Aromahead Institute for learning some more about essential oils 'Natural Anxiety Relief with Essential Oils'.
I have my training in Counselling Course via Zoom on a Tuesday. With homework to be set for the week.
Sue Stone Foundation are doing Facebook/zoom meetings each evening at 6.30, with different topics being discussed to keep us feeling positive.
I also love my podcasts especially The Sheri & Nancy Show, Do It Scared with Ruth Soukup and my recent addition of Counselling Tutor. There are many others which I link into now and again which can lift my spirits with their conversations.
My Blogging and Websites. More of a hobby than earning anything! I like to do the blogging and online stuff for this website and my other site ibelieveinprint.com although I'm finding it a little challenging with my Etsy shops. Physical products are becoming difficult to post out now and I don't know if I should still be promoting in these unknown times. Like many small self-employed people there will be no money coming in and what businesses they might have started will need to be re-invigorated as and when life returns to 'normal' or as 'normal' as can be with new economic restraints and hardship inevitably ahead.
'Raising My Vibes Planner'
Although we can't make proper plans for the next weeks or months ahead, we can try and stay focused and set ourselves some goals still and try and be as positive as possible.
So I've created this freebie undated planner which you can download, printout and fill out as you need. The weekly planner can be our go-to at the moment. Set your own activities for each day to keep on track and self-motivated.
The Planner includes a Yearly, Monthly, Weekly & Daily Planner as well as a Journaling page. There are two versions of the weekly planner, one to keep on your desk and the other maybe pop in your kitchen.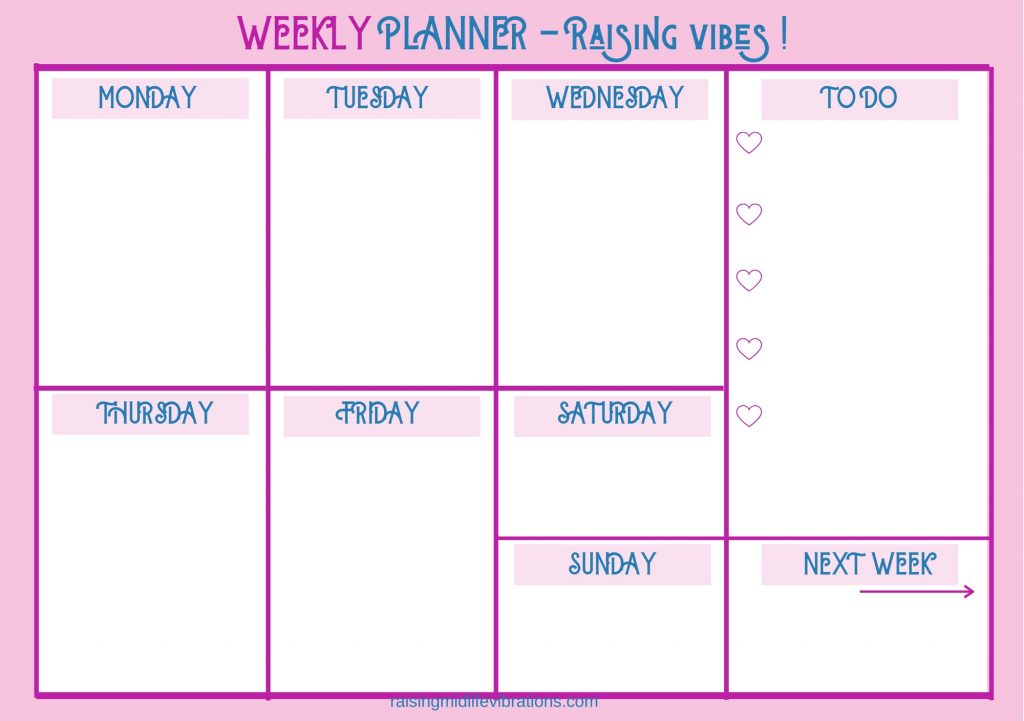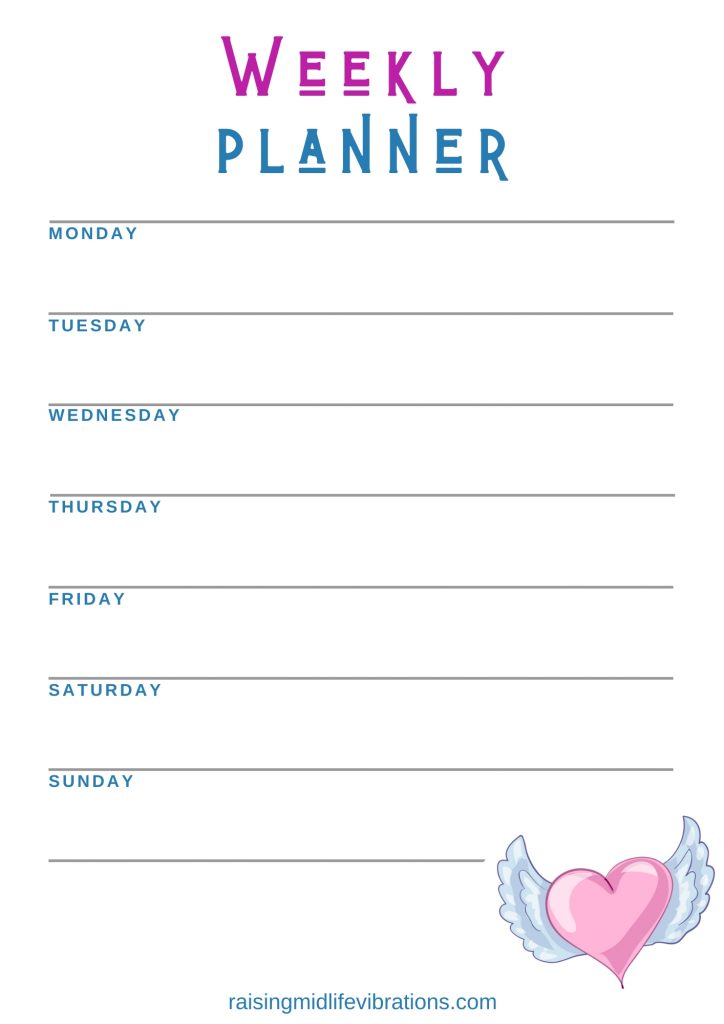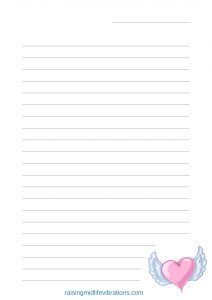 Use the journaling page to write about any of your thoughts, feelings or just for daily notes. Pop your planner onto a clipboard, in a folder or disc system.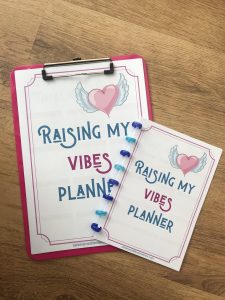 Simply Sign-Up HERE to Get Access to the Planner
Keeping Safe
I hope you are all staying safe and if you have found any way to help keep you motivated or have any suggestions please feel free to leave a comment. It might just help someone else in 'how to stay motivated in isolation?!' I think we still have a long road ahead of us and certainly unknown outcomes.