March 2, 2019 suzanne2019 Leave a comment
New Doors To Open – Another Chapter In My Life
It has been 8 months now since I left my marriage. No contact since last August so both of us are getting on with our own lives.
I've been in my rental property for just over 6 months and I have decided realistically that I need to relinquish my lease, as the job front has been 'unreliable'. My student lodger has also given her notice so it seems the right time to reassess everything and a time for a change!
The Agents require 2 months notice so it gives me time to sort myself out and decide what to do with all my 'stuff'.
New Home
I'm going back to France to stay with my brother and sister-in-law, who have kindly agreed to have me. Two reasons really – a chance to rethink my direction without the strains of trying to find the rent each month and secondly, I have nowhere else to stay as it is too small at my parents and my daughter is expecting her second child and they really need their own space. Not to mention they are extremely untidy (they will admit to this!) and I don't really want to become a 'full-time' Grandma!
The only problem I am faced with though is my 'stuff'. You don't get to 54 years of age without acquiring numerous pairs of shoes, clothes, personal effects, books, ornaments and furniture. Not to mention items from several business ventures!
Although I have tried to downsize over the years – from starting off in my own one-bedroom flat, progressing to several 3-bed houses, a 7 bedroom house, to a shop/flat lease home to my current 2-bed rental house. In fact, 9 moves over the course of my life since 23 years of age when I left my parents home.
Realities
The cost of putting everything into storage again seems impossible as funds have dried up and it would only be dead money.
So I am having to drastically decide what to hang on to and what to sell. A friend as offered space in his house for me to store some items, and use as a base, but I haven't known him that long and it's like 'am I repeating' a pattern of my last relationship. I don't think I'm capable of or actually wanting to live with a man again – dating is fun, permanent is not! (although never say never!).
I have spent the last 6 months ' self-healing' and I think I am more 'back' to me and hopefully more aware of the warning signs of narcissistic relationships……….. I have to learn to trust again as we all need support. It's hard making all the decisions alone.
A helping hand, words of encouragement and someone to give you a hug to say you are 'ok' is a precious gift.
New Chapter
Anyway, I am going to treat the next chapter of my life as 'an adventure' – otherwise, if I dwell too much on the realities, I would curl up in a ball and hide somewhere.
I have repeatedly heard and read over these last 6 months about 'our thoughts' create 'our reality' (my current read being Sue Stone's Love Life, Live Life, of which I also listen repeatedly to her positive mindset CD whilst driving in my car!). Maybe they are true, maybe somewhere along the way, I must have been doing something wrong?! – or does a certain amount of luck play a part?!!
Do I regret leaving my marriage – no. I may have different problems, but I never want to lose my identity again. I have no permanent job, potentially homeless and financially in debt, but to put myself in this position must reflect how I felt in that relationship. For anyone else who is living that same experience, it won't be easy to start over, but it depends how much you value yourself and your freedom.
Well, for now, it's time to be ruthless and getting 'listing' on eBay and Gumtree. I shall still keep my dreams of one day being settled in 'my home'- yes I have a little picture of 'my potential french cottage home' on my Vision Board, or I don't even mind Italy. For now, I will embrace the adventure, flutter my wings and see where I land.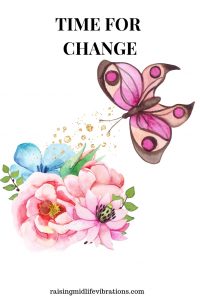 New Projects
I'm keeping my 'creative' mind busy with my new little project of digital art prints on Etsy –https://www.etsy.com/uk/shop/IBelieveinPrint/items which is something I can retain online. I don't have the capacity for any more physical products!