February 22, 2019 suzanne2019 Leave a comment
Through Tough Times, We All Need A Little Support
Everyone's lives are different, we each have our own personalities, hobbies and loves.
My cousin has always had a special bond with her horses and despite really tough times in her life, they have been her one true passion. A love that's lasted, when other love has died. Something to keep her grounded and focused when life has been challenging. I asked her to write a little about her journey with her horses to share with us.
My Horses & Me
I was asked if I would try writing about my horses, so here goes, I'll have a go:-
MY LIFE WITH HORSES SO FAR.
We grew up involved with ponies from an early age. Growing up in Downtown near Salisbury until I was 8, surrounded by fields, with close family friends who had ponies and Shetlands that we could jump on bareback in the fields.
We first started lessons when I was 7 and my sister 5 at Longham Riding School. My lessons were on a quiet pony called 'Johnny' and I remember being led out on walks.
A couple of years later when we moved to Bournemouth my dad was left a sum of money and we had our first little ponies kept at Ashtree Riding School in Christchurch. A little Appaloosa called 'Dandy' and a little grey Welsh called 'Linda'. My dad rode a big Hunter called 'Joe Mac'. We had these a while until we grew out of them. We spent a lot of time taking riding lessons with our instructor 'Josephine' who was a strict teacher. She set us up for the riders we became. We carried on with riding school ponies until I was 14, then had a break for a couple of years until I was about 17 when I started attending Throop Riding School.
AFTER MARRIAGE
I was then involved with riding a lot with my sister-in-law Melanie, who with family-owned ponies and stables at Bransgore in the forest. My sister and I also rode at Burley Villa Riding School regularly. We had a lot of riding together, although we took different paths, she was into dressage and I jumping.
AFTER MY FIRST DAUGHTER
After our first daughters were born we returned to riding. I carried on with my sister-in-law. My daughter Kimberley was a dedicated equestrian from 4 years old, she was lucky enough to be provided with many ponies and involved with a pony club through the family. From the age of 8 til 17, she had her first relationship and bond with her pony 'Sam'.
I then had a 5-year loan of a horse and first experience of an amazing bond with a horse 'Oakford Timothy' while his owner was away training to be a vet. Sadly the loss of him when he returned to his owner put me off loaning again. I used to ride him every so often to my cousin Suzanne's house and knock on her door.
SECOND MARRIAGE
My second husband and I decided to either buy a ready-made pony or a foal to bring up. It was put to Kim to make the choice, she chose a foal when she was 11 yrs old.
'Tia-maria' entered our life at 5 months old.
I remember being in the back of the horsebox bringing her home thinking, 'what have we done', we have a baby to look after!
Kim continued to ride at family stables with Sam as the first 3 years of Tia's life was bringing her up, like a child, the terrible twos, the fun and the naughty times. Unfortunately, Kim and Tia didn't bond too well but Tia and I did. Kim and I had years of brilliant riding together with 'Tia' and 'Sam'.
Kim was an explorer and we would ride out for hours exploring new rides and places. She has continued to develop her jumping and competing.
TWO MORE DAUGHTERS
Along came two more daughters Jasmine and Natasha. They grew up outdoors with Tia and Sam, from around 7 days old, in the pushchair or baby carrier. Jasmine was a fair-weather rider as her passion was art from the age of five, but had a great bond on the ground with 'Tia'. Natasha was a dedicated equestrian like her sister Kim and grew up riding Tia. Unfortunately due to a leg injury, she couldn't be used for jumping but Natasha learnt her jumping when she did two years at equestrian college.
'TIA-MARIA'
Tia has been in my life every day for 25+ years. She will be 26 in April. Tia is now mostly retired and time spent with her is caring for her in her old age. We have had years of amazing riding together as well as an unbelievable bond, friendship and relationship. We know each other inside out, she has been my friend, my motivation and backbone through many ups and downs and difficulties in life. It is not something you can put into words, it's that special experience of any horse owner.
Two years ago I nearly lost her through sudden ill health. She was diagnosed with two bouts of Laminitis and Cushing's disease, which involved a lot of vets bills, medication and care, diet and stable management to get her to where she is today two years later, which only made our bond even stronger.
'JEFF'
Entering our life 'Jeff' a little Shetland pony we rescued as a baby as a companion for Tia.
Six years on he is part of the family and we have a great bond and relationship. Both Natasha and I enjoy great walks out. The little girl of 3 that I child mind has grown up around him since she was 8 months old and they have developed a very close relationship.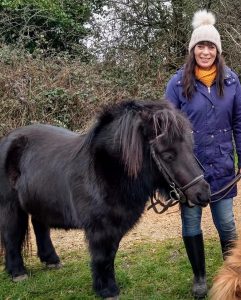 I will continue with my ponies until they are old and I am old. It's an addiction you cannot break, the routine, the outdoors. I'm sure I will have many years ahead involved with horse shows with my daughters and granddaughters and their ponies.
If you have a chance to experience being around these amazing beings, take it, feel it, breath it in. It's a love that's lasted when other love has faded!