February 5, 2019 suzanne2019 Leave a comment
A Special Kind Of Love, With A Special Bond
Three years ago today, my little Grandaughter Sophie was born. A little bundle of joy who I was blessed to see come into the world.
My daughter's pregnancy had been up and down. She suffered from Hyperemesis Gravidarum (HG) which is excessive nausea and vomiting and was in and out of hospital. The condition means you are unable to keep food or drink down, having a negative effect on daily life, and causes a really miserable pregnancy.
The months passed by and finally, my daughter went into labour. I was concerned as my own pregnancies had not been great. My first baby being stillborn and then complications with the other two. I was secretly worried and apprehensive, wondering if she would cope with the experience. It's a funny feeling when your own daughter is facing labour.
As it happened my daughter was only in labour for about four hours. I was really fortunate to be at the birth. To me, it was such a beautiful experience as everything went smoothly and I couldn't believe how easily she 'popped' the 6lb 5oz baby out – who they named Sophie-Grace!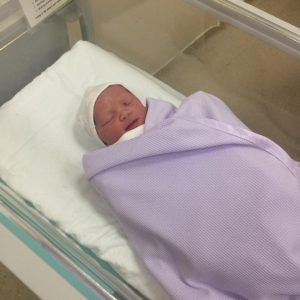 Over The Years
I've been lucky to be able to look after Sophie when her Mum's been working or she's been over for sleepovers. I'm not a completely hands-on Grandma. I still like to have my own life, but on the occasions I do are lovely. I can do a little spoiling, I don't need to do much 'telling off' and I can hand her back when I get tired!
Birthday Cakes & Parties
I still love doing the occasional cake. This year Sophie decided she wanted a Paw Patrol themed cake for her Birthday party. It wasn't complicated so I could manage to bake and construct it in my small kitchen, without too much hassle.
We decided on one chocolate and one vanilla sponge layer. The vanilla had a strawberry flavour buttercream filling and the chocolate, chocolate buttercream. I've attached the recipes for the sponges if you would like to try them. I coloured the sugar pastes with pink & blue food colours. My preference is the Rainbow Dust Pro gel colours and Renshaw Regalice Sugar paste, which you can get online or from Sugar Craft shops. I covered the prepared cakes with the sugar paste and stacked as a two-tier cake ready to decorate.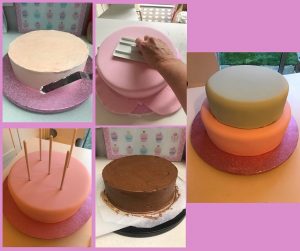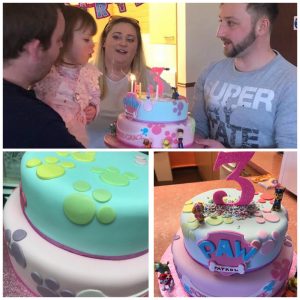 I cut the paw prints out of coloured sugar paste using circle cutters, sticking to the cake with a little boiled water. The pink Number 3, I made out of flower paste, glittered up, as well as the name and Paw Patrol emblem.
Sophie had a lovely party with all her friends and cousins. She is much more aware of what is going on now and has a proper little character.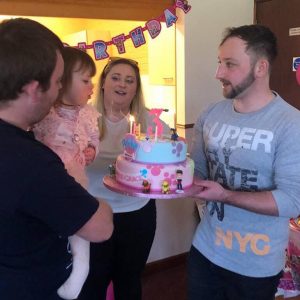 If things go according to plan I'm due to become a Grandma again in August when Sophie is having a little brother or sister!
Grandma Love – a Special love to help 'raise our vibrations'!