January 3, 2019 suzanne2019 Leave a comment
Invest Some Time
Give Yourself A Little Manicure
It's frightening where the time goes. As we look in the mirror the reflection back is so different from our perception. Where has that 'young' woman gone who still shines inside?
We spend many years bringing up our kids, running the household, being everything to everyone that we often lose sight of our own needs.
Sometimes it's lovely to just have a little pampering and it needn't cost a lot.
Manicures & First Steps To Self Love
Our hands can be one of the first signs of aging. We take them for granted, often in hot soapy water doing the dishes, cleaning our homes with harsh chemicals, gardening and exposed to cold icy weather.
I know my hands really suffered when I had my cake shop. The constant icing sugar and sugar paste made them really dry. At that time I couldn't wear nail varnish due to the health & hygiene aspect. When I left there I trained as a Nail Tech and started to take more notice of how they looked.
Treat Yourself To A Manicure In a Salon or Follow These Simple DIY Steps:-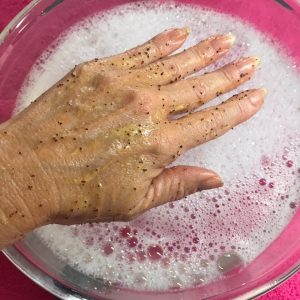 Scrub your hands & fingers with a Hand Polish
Easy Steps:-
Give your hands a lovely scrub using a hand polish. I love the smell and qualities of the NYR Organics range. I use the Nourishing Melissa Hand Polish
After a good scrub to rid the dead skin cells, soak your hands in a warm bowl of soapy water Geranium Hand Wash or I like to use the Rose & Pomegranate Bath Oil (which I love to pop into my bath), and then rinse off.
Dry with a clean towel. Your fingers are now ready for your manicure.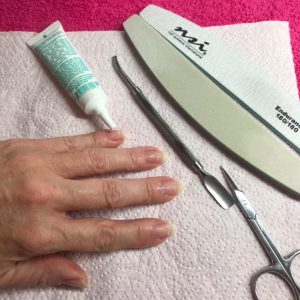 Tools required for your Manicure
Gently push your cuticles back on your natural nails with a little cuticle cream and metal cuticle instrument (you can get these from any beauty shops, boots, or Superdrug).
Cut & File your nails to your desired shape and clean under the nail edge. Gently buff over your nail beds.
Your hands are now ready to apply nail polish or just your hand cream.
I like to apply Gel Nail Polish which lasts two-three weeks. It does require an LED lamp but it doesn't chip like normal nail varnish and is much more durable. You can get some gels in the shops but for the well-known brands, you will need to be or know a qualified Nail Technician to purchase them.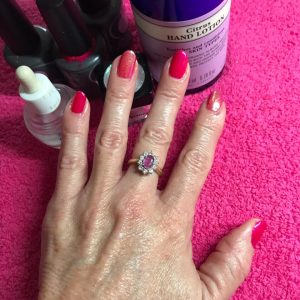 Hands feel lovely & Soft
I've applied a Base coat, two coats of Entity Colour Couture called 'Flirt with the Camera', and Addiction Glitter 'Silent Shimmer' on two nails for a bit of sparkle followed by Top Coat.
I love the Gel II range but I found I was allergic to their products so I only use them on friends & family. I need to invest in some more Entity colours as fortunately, they seem fine on me.
As Gels dry immediately after the topcoat you can apply your hand cream like NYR Citrus Hand Lotion and some Cuticle Oil. Give your hands a little massage. If using normal varnish wait for it to dry completely before applying your hand cream & oil.
Ideally, repeat this every couple of weeks. You can follow the same treatment for your toes.
Your hands will definitely appreciate it and you are on your way to the first steps of Self Love.
*Some posts may include affiliate links but at no cost to you