January 7, 2019 suzanne2019 Leave a comment
How Soon Is Too Soon
To Start Dating Again
I first explored the world of 'On-line' Dating about 7 years ago. I had separated from my first marriage of over 20 years and a whole new life opened up!
My kids were teenagers and despite working flat out I needed some fun, so my friends encouraged me to sign up. One friend even put my first photos on for me, until I got the hang of it. I must admit I was quite naive in those days (maybe I still am). My 1st husband had been my first proper boyfriend and dating was so different in those days. I actually met him via his mother doing a 'Pippa Dee' clothes Party at her house!
Anyway from the age of 46, I spent several years dating, tried lots of different online sites and made many good friends. On the whole, my experience had been good despite being a little addictive. Yes, I had a few heartaches along the way and I think probably vice versa.
Coffee, Cake & An Online Date
I actually met my 2nd husband on a dating site…..Zoosk.
The funny thing was I had recently separated from an intense on-off relationship and had decided to get a dog instead of another date. By chance, I happened to log in and started chatting to a guy who lived about 2 hrs drive away. To be honest, I didn't really think we had anything in common, and I wasn't that fussed. Anyway, after several weeks of chatting, he decided to come down and meet up for coffee.
Well, my usual idea of a first date is a daytime coffee. It's usually a bit like an interview where you are sussing each other out, and deciding if you want to take it to a second date.
Well, that 'coffee, cake and an online date' turned into a 24 hr date….coffee, cocktails, dinner….and breakfast in a swanky hotel. All innocent and to the extreme with my daughter and mother calling me in horror at my actions!
Yes, it had been stupid and dangerous but when a man tells you he is going to marry you on a first date and treats you like a Queen – well common sense goes out the window!……..
Four months later we were engaged, and married seven months after that!

Fairy Tales Don't Always End Happily Ever After
Had I actually listened to my inner voice things would have been a lot different. I should have just stuck with the new dog plan.
2nd Time Around
And so here I am finding myself exploring the online dating game again.
It's been 5 years since I last dipped my toes. Am I mad, well possibly a little but hey life is short and getting shorter. I don't really want to become a lonely spinster. My friends are few, mostly married and I enjoy a man's company.
My Best & Worst On-Line Sites
To be honest they are all pretty much the same and you can see the same faces on the free sites as well as the paid ones. Some faces are even the same from 6 years ago!
Match.com is my preferred Paid Subscription site. You can get a free trial to most sites first if you google them.
E-Harmony was the worst one – how they can match you up with someone just by analysing your interests and hobbies I don't know. For me, there has to be a physical attraction/spark
A couple of new free ones I've looked at are Lumen and Badoo. Both can be downloaded as apps on your phone. Lumen is for the over Fifties. A swipe system that didn't work for me. Badoo is just another site like Plenty of Fish really but without the bad name….yet!
Silver Surfers a friend tried this one, but not many local men on it, so unless you are up for travelling not ideal.
Plenty of Fish, I still think this is one of the better sites even though it has a lot of stick. It's free unless you want to upgrade to extra features, but there really is no need.
There are many more depending on what you are looking for so it is worth investigating yourself. I will give Zoosk a wide berth this time around but it was actually a good site for just chatting. And that is sometimes what people are needing. A bit of banter, someone to ask how your day went and a boost to your confidence.
My Tips & Advice – from first-hand experience
When you create your Profile, you will need some good up to date photos. A few close up headshots and a full body shot so they can see the real you. There is no point trying to be someone you are not…..but make sure they are flattering. And not too revealing….unless you are looking for casual meet-ups.
Most men aren't actually going to read your written description, they go by what they see first. Keep it short & sweet….a little intriguing. They don't want to know your life story, or how you look after your grandkids. Don't give a long list of what you are really looking for….it will scare them right off. You can decide that later, probably after the second date!
Coffee Meet
Personally I like to meet fairly soon after chatting to someone. It's easy to build up a bond with someone through chat only to find they aren't who you thought they were.
I always prefer the 1st meet in the daytime for coffee in a cafe. That way if it's uncomfortable or not the person you thought, you can easily make your exit. Always always meet them there and tell someone where you are going. My daughter has a tracker for me on her phone now!
If it goes well, you can always extend the date to lunch or early dinner.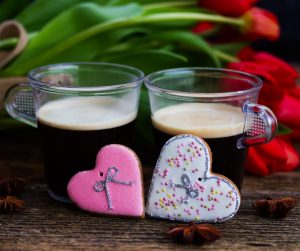 Be Careful
Yes, it is a scary world out there. Not everyone is 'normal' like your ex-partner….who you might have been with from an early age but you just grew apart. (ok so he was lazy, unambitious, boring etc). There are actually some weird guys out there. I have heard so many stories from men I've met who have had dates with women who have been tricked into spending all their money. They have moved in and taken over their lives/destroyed their lives…… I can relate.
There are also a lot of men who say their situations are 'complicated'. Basically they don't want to leave their wives & families. But are prepared to take the risk of playing around.
There are also men who put up false photos & false identities. Even though the site supposedly verifies them. This happened to me on Badoo (since deleted). The person I was chatting to (yes I do flirt a little) did this. He then found out my surname & telephone number from my Facebook page (my cake business page/profile still circulating) just by having my first name. I have since received 'graphic' photos, a telephone call and daily emails. A very well-spoken married man who would like some extra attention!
Seriously though you do have to be on your guard. If you want to meet someone it seems to be the only way these days.
As long as you are careful you can make some good friends even if they don't become the love of your life!