November 23, 2018 suzanne2019 Leave a comment
A Time To Find Me & A Time To Reflect
In A Little Place In France
I flew out from Southampton Airport at the end of June. It was the Saturday morning after handing in the keys to the house and giving the car back to my ex. (It was a lease car – my own car had been sold when we married and my business van had been put into his business). A relatively small airport which I don't find too busy or intimidating like I do Gatwick or Heathrow. The older I get I find noise and commotion harder to cope with.
It's only a short one hour flight across to Rennes Airport, in the northwest of France. It's the capital of the region of Brittany. I was picked up by my brother who I was staying with. He and his wife moved there from England about 5 years ago and have immersed themselves into the French culture.
They live about two hours drive away from the airport in a lovely rural area, middle of nowhere to be precise.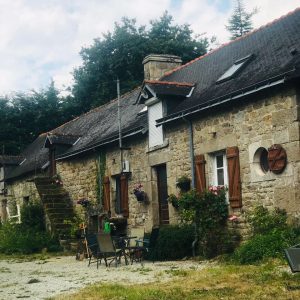 A typical french style stone building which they are gradually renovating. Although my brother is a builder by trade, since they moved there he has been doing so much work for other ex-pats that their property has been a bit neglected. But still very charming!
They have a lot of land attached so also a lot of upkeep. A perfect retreat though when you want to escape, and in need of a time to reflect.
I was there for just over three weeks. I spent the days relaxing in the garden with a little sightseeing. No pressures, just a complete switch off and rest after a period of stress and angst. No busy traffic or hustle and bustle of back in England.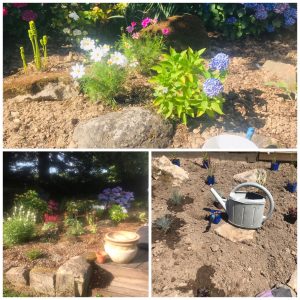 There's something very therapeutic about gardening. I hadn't tendered a garden for years. The last house we had lived in had wooden decking at the back. Just enough space to put some large pot plants on. The house before that was more of a building site. A house we had moved to on the understanding that it would be a project for both of us to start our married life together. Something else that hadn't happened.
The soil was very dry as it was the summer of really hot weather. As I planted the cuttings and shrubs I wondered which ones would survive in the tough conditions. There was no 'miracle' grow to pop in with them, just water. They reminded me of life – starting off as eager seedlings pushing out into the world. Each reaching for the sun and blue skies, hoping to shine their light. To be appreciated, loved and admired, but with the risk of being cut down by the unexpected. Harsh weather, eaten by insects or strangled by weeds.
Out & About
I decided to be brave while I was out there and hire a car. I'd never actually driven abroad before as it was something that I had been happy to leave to the 'man' in my life. My first husband of twenty years and I had holidayed quite a bit with the kids. It's always more fun to explore a country independently where possible.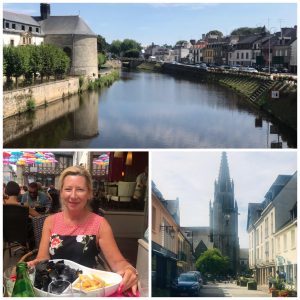 To me it was one of my first challenges to take myself out of my comfort zone. I needed to start to rebuild my confidence and get my life back. It turned out fine and actually far easier than I thought it was going to be. My brother took me to one of the large Supermarches to arrange the hire car. I needed my driving license, passport and credit card (deposit required) to do this and the french address of where I was staying. My school days French is not great but fortunately my brother has become quite fluent. The French people are pretty helpful as well. As long as you show you are trying to converse with them in their own language, they will often revert to English.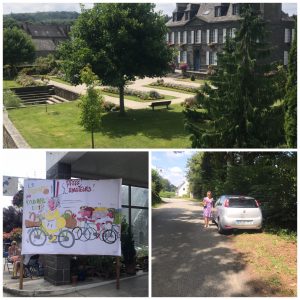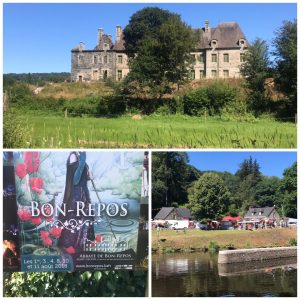 Fortunately most of the roads I needed to use were very quiet. My sister-in-law and I visited the local villages and did some sightseeing. A few of my favourite places were Pontivy and Gouarec where we watched the Tour de France. Then there was Bon-Repos with it's impressive Abbey De Bon-Repos. A must visit for anyone who loves contemporary art. There is also a fabulous display of crystals in the shop there, which ignited my love to find out more about their meaning and qualities.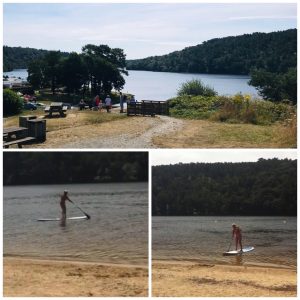 My second challenge I set myself was to Paddle board. Something I'd never tried in my life before. It was great fun and a perfect setting on the lovely Lac de Guerledan.
Not bad for a 'nearly 54 year old'!
It was a well needed break and I met lots of lovely people. Although I had to face reality and return to find a new 'home', I would be revisiting when I could.
If you need somewhere to unwind then Brittany is a beautiful scenic location with many rustic buildings and architecture seeped in history. It's almost how England was twenty years ago – a place stuck in a time warp.
Most definitely 'A Time To Reflect' sort of place !