Audio Version Play
Life returning to 'semi-normal'
As our lives are starting to open up after lockdown I'm not sure whether I feel pleased or slightly apprehensive. Life is not going to return to 'normal' anytime soon and new structures, systems, and behaviour patterns are going to have to be formed.
Yes of course I'm so pleased I can start to see my kids and grandchildren again at a distance in the garden or in the park. I can start to see a couple of friends again when the sun is shining and meet for a coffee and chat in their garden. But I am apprehensive as to how life can move forward for my parents and other elderly people, and how we can all integrate back into our previous routines.
Moving Forward
I've finally been advised my counselling course will resume at the end of June and July online and then hopefully back into the classroom set up in September. This puts me 6 mths behind my original plan but I am happy to do what I can. Some of the group students have decided to postpone their course due to family commitments. I understand there will be a few new faces to get used to.
Ollie is looking much smarter and happier since he has had his groom and 'mine' has been booked in for the 2nd week of July. My hairdresser is going to do the colours & cuts but not the blow-drying, as feels this is the best way forward for the salon which makes sense. I'm definitely looking forward to getting some fresh highlights back!
Other than that I am still waiting like everyone to hear about the Gym Center and classes. I had a survey to fill in to see how I felt about it opening up….to be honest, I'm not really sure yet. I don't think I will be one of the first rushing back.
Masks Now Official on Public Transport
The government has finally made it official that anyone travelling on public transport has to wear a mask, otherwise will have a fine imposed upon them. I think this is fair enough and I shall make some for our own personal use, as well as for the sewing group I am currently part of.
I will give you a couple of links to some patterns of masks we have been using, as there are loads out there, especially on YouTube. With these, you can pop in a filter if required.
https://hellosewing.com/face-mask-sewing-pattern/
https://sweetredpoppy.com/category/sewing/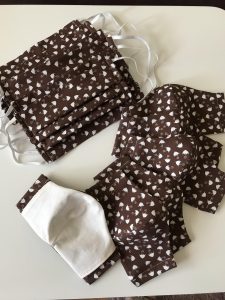 I think I shall also explore making some gaiter type masks that can be worn around the neck like scarves and pulled up over your face when needed. I certainly think we need to be prepared for the winter months when coughs and colds return and we'll all be cooped up inside.
What's In Store For Us Single Ladies?
Well, I went on to have two further dates with the chap from my last post. One of them being a lovely day walking by the river and picnicking in the park. With the sun shining, a bottle of bubbly to wash the food down it was hard to stay at a distance…..despite being a really good day though we decided we were looking for different things…….basically he was looking for a woman he could move straight in with from leaving a stale ex…..and who didn't have the commitment of their parents/or at least a woman who had her own place where he could have his cake and eat it!!
I'm not sure how any possible future dates/potential relationships will go for any of us single ladies. (sex currently being banned between anyone, not of the same household – I feel quite depressed!!). Joking aside it will be a serious situation to address as the country opens up and people start to mingle again.
Stepping Out Of The Bubble
Stepping out of the bubble after lockdown is going to be a gradual process for me, and many others with lots to consider. I think the world has already gone slightly mad. With excess behaviours of packed beaches, crowded riots/demonstrations, and parliamentary point scoring!
I sometimes think we were better off in that bubble, where the world stood still and the environment was allowed to self heal……