Ringana – My Opinion So Far
A while back I asked a friend if they were interested in writing an article for my blog about some face & body products they sold. To be honest, at that time I hadn't really paid much attention to the products.
Anyway, they kindly sent me a sample and directed me to an online event to find out more about the company called Ringana & their products. Again, I thought Ok thank you and put the sample to one side. I watched the event and didn't really think much about it!
That was until I was researching vitamins and ways to kickstart my lockdown body. I found out they did a vast range of not only face & body products but various others. Vitamin capsules, drinks, a meal replacement powder for weight loss, wellbeing packs, and sports supplements. And all 100% fresh!
So What Is Ringana
Ringana is an Austrian company who's philosopy is:-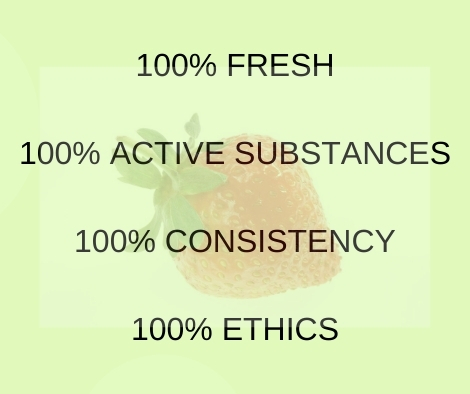 All their products are Vegan, Organic and Fair Trade, of the highest quality. They are made from Fresh Active Ingredients that are not older than 14 days old from production. That means you know your products are going to be pure and effective, with no hanging around on shelves or in store cupboards.
How many times do we buy body products from the supermarkets that may have been there for a year or more? We may then stockpile for even longer and still expect them to be fresh. How many chemical ingredients go into these products to make them last? Ringana products have an expiry date of usually 6 months. Once they are opened, they are good to use for at least 10 weeks. It means you use the product at it's freshest to benefit from all its wonderful active ingredients.
Sample Product
On learning more about the company I tried my sample gift which was the Ringana Tooth Oil. It derives from the tradition of oil-pulling, which is where a little oil is moved around the mouth and then spat out. The idea behind this is the tooth oil binds harmful bacteria in the oral cavity. The Ringana Tooth Oil offers a replacement for toothpaste, or can just be swilled around your mouth to freshen up during the day. On using it my mouth felt fresher and I didn't have that film on my teeth which builds up during the day. From that moment I was hooked. It's a great product to carry around in your handbag and freshen up when out and about. It is now part of my dating tool kit!
Body Products
My current favourite products are the Fresh Scrub, Fresh Body Milk, and Fresh Foot Balm. You only need to use a little as they go a long way.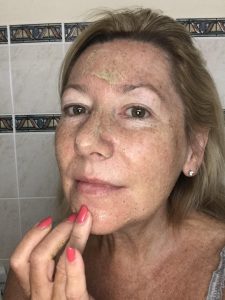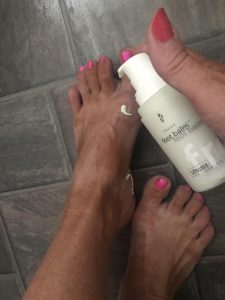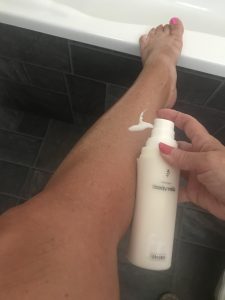 What I love about the products is that they don't have an overpowering smell. A slight scent but nothing like many of the body products that contain essential oils. Although I do love some scents, they can be overpowering, especially when using various bath & body creams together. By the time you get to put your favourite perfume on, it gets lost amongst all the other scents!
The pump-action Fresh Body Wash is nice, it cleanses, moisturises, and refreshes the body. For anyone who doesn't like scented washes, this is ideal. You can use it with wet shaving as a foam consistency. They do a travel size as well which would be great for overnight or travel trips.
The Fresh Shampoo is very gentle and I did notice my hair was lovely and soft afterward. I've yet to try the Fresh Conditioner but I would imagine it would enhance this.
I love the Fresh Hand Balm, again no overpowering scent. A little amount goes a long way & feels very enriching.
A new twist on deodorant is the Fresh Deodorant which is a creamy white water-in-oil emulsion. Another pump-action cream that a little amount goes a long way. I found it really lasted the whole day, no sweaty armpits even on a hot day!
Lots More Products To Try
I'm excited to try more of Ringana's products and I shall keep you updated. I'm particularly interested in the supplements they do and the energy drinks. I've now signed up as one of their Partners/Suppliers (network marketing system but a lot more personable than many – I'll touch on MLM 's in another blog post!) and you can see all the products at Ringana.com
If you want to find out more have a browse through my Ringana link. They do sample sizes and skin type test kits if you are not sure what will suit you. I'll keep you posted with any offers and how I get on with their other products. I'm especially keen to try their energy drink Ringanachi and the Ringanadea for detox. I am also keen to try a smoothie from their Complete d-eat to help with weight loss and Pack Cleansing to help with digestion. All-natural, all fresh – look good feel-good factor for the whole family!
Their packaging uses recycled cardboard boxes with cornstarch chips, that will just dissolve in water. The bottles are either made from glass wrapped in a little organic cotton towel or from CO2 neutral sugar cane which can be 100% recycled.
With more focus on online shopping and personal self-care, I can pamper myself, shop simply, and know what is going in and on my body!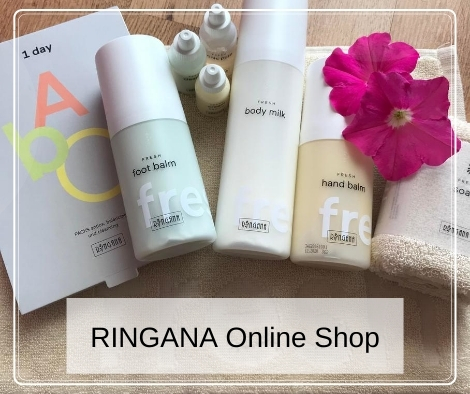 Ringana – My Opinion So Far – Great!
Update Aug '22
Due to other commitments I am no longer a Ringana Partner but I still enjoy some of their products like the tinted moisturisers. I have been loving the tinted moisturiser this summer! You can enjoy all Ringana Products on their main website Ringana.com