January 14, 2019, suzanne2019 2 Comments
Dealing With Our Elderly Parents
As Their Health Declines
My Mum and I have always been close. She has been there for me throughout my growing up years and my adulthood. A person to turn to when life wasn't 'ok' and I needed her support.
Mum has been there for my children too and played an important role in their upbringing and welfare.
Me, My Mum & Parkinson's
A few years ago she was diagnosed with Parkinson's Disease, a long-term degenerative disorder of the central nervous system. As I watch the symptoms of this disease gradually take over, the tables are now turned and it is she who needs more of my support.
I asked my Mum to write about her experience so far:-
My Life With Parkinson's Disease
'It was definitely a shock when I was first diagnosed. Although my tremors in my hand and arm were getting worse, I didn't really acknowledge what I knew it might be. Unconnected in my mind, my walking had become laboured and climbing into a car was awkward and slow.
One night I fell over in the lounge with no explanation. I fell flat, unable to stop myself. My ribs and side of my face were very bruised and it was very difficult trying to get back up off the floor. (I told no one).
Although my daughter had noticed several reasons to think there might be something wrong, and suggested a visit to the Doctor, I tried to tell myself nothing was connected.
It was only when my husband Michael and I joined some friends for lunch, that Dorothy said: "Angela there is a problem and you must see a doctor" that I realised I could no longer ignore it.
My visit to the Doctor was a confirmation – Yes – I had Parkinson's, followed by a further verification from my Consultant.
I really thought I would be a very healthy and strong elderly lady bothering no one. I had always been very active and busy so to think my independence would gradually disappear, was a great blow.
Now every day is different. Sometimes I am very tired, I could sleep any hour without realising. Even walking with a walking stick is difficult and hard work.
I need my daughter's help more often, she helps me with the housework & takes me shopping. My husband helps me out of the shower, helps dry and dress me. We muddle along together as he is 83.
I Need A Routine
Tablets are taken daily, my alarm is always set for 3 times a day. Exercise is necessary as joints and limbs become stiff and painful. Sleepless nights and walking around in the night, marching, stretching and moving every limb to relieve the pain and irritation.
My other problems are anxiety, worry, bladder and bowel difficulties. Depression and fatigue. All unseen problems.
I am fortunate I have this in my 70's though. A vast amount of Parkinson's patients start when they are much younger and have many years of suffering.
External Help
I have joined a local Parkinson's Group where we can share our experiences, and attend their exercise class. I've also read quite a few books to help me understand why I may be feeling certain symptoms and how best to cope with them.
Sometimes I resent my illness, wondering how bad I will become. I am 78 years of age now, my eating and swallowing are becoming more difficult and I am having to rely more and more on other assistance. I do worry about the future!'
My Mum has always been a very proud, independent and private person. Her appearance has and is still very important to her.
I have to stop myself from being selfish and not to expect her to take on my worries.
It's that mid-stage in life when we may not have the worries of our children but the worries of our parents.
We must continue to support them with love, compassion and dignity.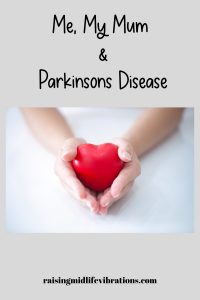 For further information about Parkinson's Disease check out their website https://www.parkinsons.org.uk